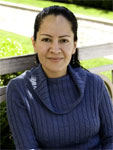 becky martinez is an independent consultant and trainer with a focus on social justice, inclusion, and leadership. She works with clients to meet their organizational needs in today's diverse society.She has worked in a variety of settings to create dynamic, interactive learning opportunities for people of all ages. In her administrative roles, she has provided vision and advocacy for professional and paraprofessional staff and students to develop themselves into their own definition of leader. Her work includes diverse groups at the college level, with community based organizations and with for-profit companies. She brings a variety of skills and tools to tailor around her client's needs. Her experience and knowledge results in highly effective trainings, workshops, coaching, and seminars.
She believes that while organizations may have a depth of diverse members, there is a great deal of work to create an inclusive environment for members, and it is our responsibility as leaders, regardless of title, to create such space.
becky's career portfolio includes working as an administrator within the California State University, the University of California, and the Colorado State University systems as well as private liberal arts colleges. She is a Social Justice Training Institute alumna, a Lead facilitator for the LeaderShape Institute, and a former certified counselor-advocate through Peace over Violence (previously Los Angeles Commission on Assaults Against Women). becky is currently a doctoral student in the Organizational Leadership program at the University of La Verne. Her dissertation is focused on social justice and transformative learning with a focus on the impact of the Social Justice Training Institute. She holds a Master of Science degree in Student Affairs in Higher Education from Colorado State University and a Bachelor of Arts degree in Biology from the University of La Verne.